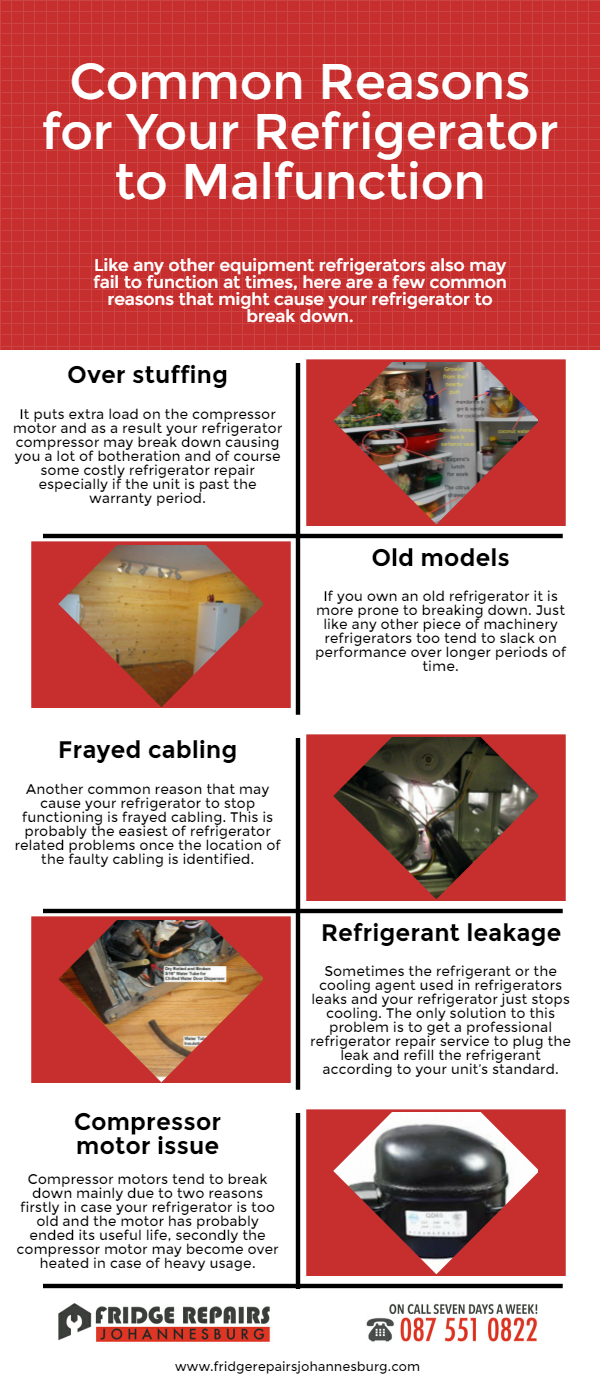 The refrigerator is a common household device that plays a crucial role when it comes to food preservation. The refrigerator uses a mechanism that keeps temperatures below degrees at which micro-organisms can thrive. Your food and fruits will, therefore, stay fresh for longer when placed in a refrigerator. Despite the benefits of a refrigerator, it is still an electronic device that is bound to break down at one point or another. When this time arrives, you need a good technician to pinpoint the problem and provide a working solution.
According to experts, the commonest reasons for fridge breakdowns is overstuffing. A fridge can only work properly when there is adequate air circulation. When it is overstuffed, there is limited air flow, meaning that the fridge will be partially cool. Hot air will not be sucked out effectively creating uneven pressure. In addition, a lot of weight in the refrigerator is transmitted to the compressor motor which in turn breaks it or interferes with the way it works. Avoid overstuffing since repairs that are needed to restore the original functionality of the refrigerator could cost you a lot of money.
Refrigerators tend to decrease in performance with age. Take caution when purchasing a used refrigerator since it might be almost past its glory. Besides, newer models are always better than older ones since technology is being improved by the day. They are not only fitted with the latest features but are also easy to maintain and repair when they break down compared to the older models.
Cable breakage is another common reason for refrigerator problems. With continued use of your fridge, it is quite easy for the cables to fray. It is, therefore, important to inspect the cables often so that you take action before any problem in the cables interferes with the refrigerator's performance. It is also important that while moving the refrigerator the wires are not caught up in anything or dragged as this is where fraying often begins.
The refrigerant can begin leaking without warning and when it happens, it will cause the fridge to malfunction and your food to spoil quickly. If it occurs, you are left with nothing to do other than to call an expert to replace the cooling agent and also repair the problem. Another common problem that occurs has to do with a broken compressor motor. Compressor motors break due to aging or when the refrigerator is under constant heavy usage. Once it breaks down, it has to be repaired or replaced.
In case you are having any of these problems, contact our Johannesburg-based fridge repair team. With years of experience in this sector, there is no refrigerator problem we cannot fix no matter the model. All our services are pocket friendly and our technicians are adequately trained to handle any issue. For all refrigerator issues, call the number one Johannesburg electrical servicing team today on 087 5510822.